Kokedama Workshop
Wed, October 21
@
6.30 pm
–
8.30 pm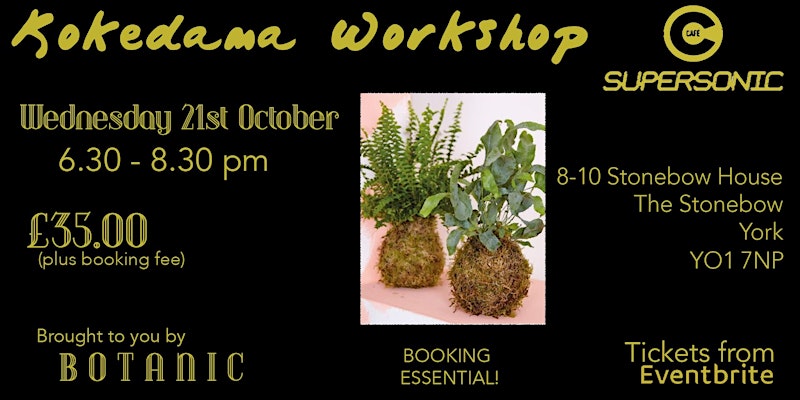 Our first Kokedama workshop of 2020! Better late than never…. Our venue for this one is the beautiful Supersonic Cafe where you will be surrounded by the plants we installed back in February 2019 and have maintained ever since, watching them grow beautifully into the space.
The art of kokedama (or "wrapped in moss") originates from Japan and creates a containerless indoor garden! The roots of a plant are carefully wrapped in a ball of clay-like soil, surrounded with a layer of moss and secured with string to create a living work of art that can be hung up or placed in a dish.
Our wonderfully enthusiastic and knowledgable workshop leader, Alice, will talk briefly about the history and science of terrariums and then provide step-by-step guidance as you get stuck in with the creation of your miniature jungle. We will also provide care instructions and tips on keeping your new creation fresh and lush back in your home. Attendees to the workshop will also get a 20% off voucher to use in our shop on Walmgate.
Your creation will be a wonderful addition to your own home, or a fantastic gift for a loved one
Supersonic Cafe will be open for refreshments.