Desert Terrarium Workshop
Wed, October 14
@
6.30 pm
–
8.30 pm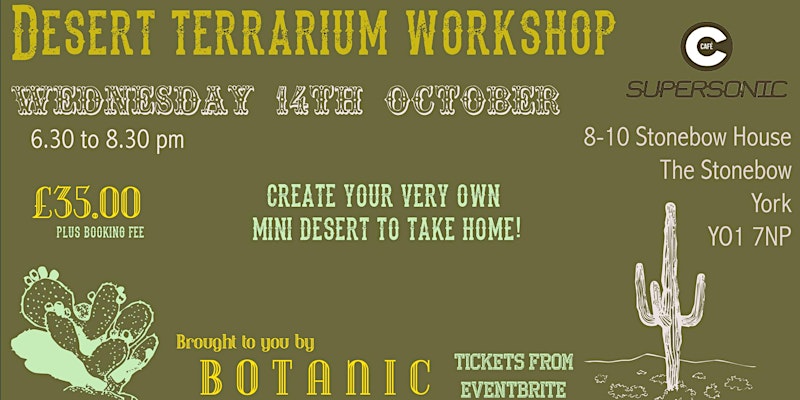 Our first open/desert terrarium workshop of 2020…. better late than never! Our venue for this one is the beautiful Supersonic Cafe where you will be surrounded by the plants we installed back in February 2019 and have maintained ever since, watching them grow beautifully into the space.
Roll your sleeves up, get your hands dirty and let your imagination run wild (west) during this desert terrarium workshop. The workshop is hosted by York's very own house plant shop, Botanic.
Botanic will provide everything you need to create a beautiful miniature ecosystem including plants, soil and a glass terrarium.
Alice, our wonderfully enthusiastic and knowledgable workshop leader (and Manager at Botanic), will provide guidance during the creation of your miniature landscape and also give tips on keeping your new creation healthy back in your home. Attendees to the workshop will also get a 20% off voucher to use in our shop on Walmgate.
Your creation will be a wonderful addition to your own home, or a fantastic gift for a loved one.
Supersonic Cafe will be open for refreshments.